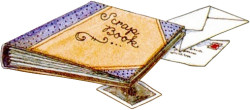 *************
Hi there!
Rachelle here looking back on 2013.
***********

***Here is the Year in Review.***
*Fantastic ride on 3 design teams and I am still there loving it.
So honored to be given another term with
sketch-N-Scrap Design Team.
*So honored to be Guest Designer on a number of sites. In short the
list include:
~CSI
~Frosted Designs
*Enjoyed many "Happy Dance" days.
*Started creating Mixed Media projects. I so love it.
*I became an official "Shabby Girl."
*Enjoyed meeting more friends in the Scrap/Paper Craft World.
Really awesome people.
Now here is a quick glance of some fave projects:
Mixed Media Canvas
Card~"Frame It"
"Holiday Trio Set"
"Our Love"
Mixed Media Tag
MME Project~"Perfect"
"Oh Boy"
Well that's it and I hope you found the review to be inspiring.
2013 was filled with excitement and fun.
Looking forward to more blessings in 2014.
Thanks for stopping by and remember to...
See ya soon!
Huggies!!!